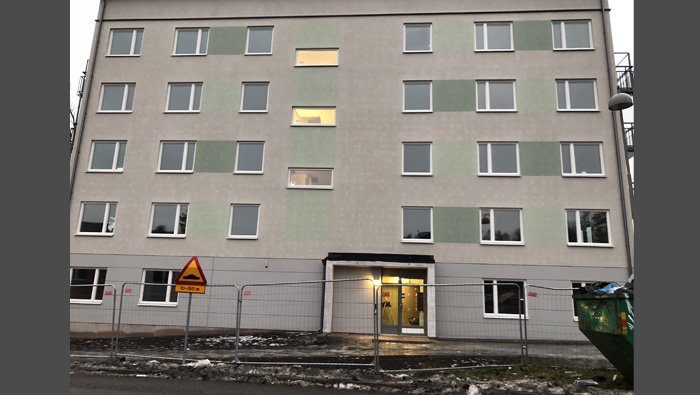 During 2018 I have had the privilege of serving on the jury of Boinstitutet deciding who is awarded Bopriset an award that acknowledges and rewards qualitative and attractive housing.
This year's winner was Helsingborgshem with their serious commitment to a truly inclusive process where a dilapidated area was upgraded in a way that preserves and refines the original.
In addition to this jury work I was also a part of the work with Regeringens exportpris för kulturella och kreativa näringar (The Swedish governments export award for cultural and creative endeavours). Here Acne won first price, but a number of players were nominated, for example, internationally acclaimed designer Frida Fjällman.
Rather unusually I was very positively surprised by Sveriges arkitekters (Swedish Architects) exhibition at the Venice biennale where unique wooden structures coexisted with religious and nature poetic mirror constructs. All while the spirit of Gunnar Asplunds watched from up on high. Magnificent. With these experiences fresh in my memory I am assured there are many Avantgardistic creatives in Sweden today. There is also an increased insight into the role of culture in creating an attractive and competitive society. The soft power is becoming at least as important as the hard power.
In light of this I was genuinely surprised when I was met by newly erected houses in early 70's style in where 1100 new apartments are to be built. It's almost a carbon copy of a residential block in Kalix built in 1970.
It's Bonava who more or less unwittingly contribute to this different interpretation of the present in vintage- and pastiche style.
Genius Loci – culturally sustainable building
Genius Loci is one of the most important general trends in the development of the cities and urban areas of the future. Today the term is often used to describe the soul of the place, the culture and the spatial prerequisites present in a place, providing it with an almost fundamental unique feel and expression. Granted it's a term that is not easily defined and has been subject to some abuse – but that should not prevent us from trying.
Profitable and attractive
Focusing on genius loci has proven to have great advantages in providing far greater attractiveness and economic feasibility. Quattroporte has performed more than 30 projects since 2005 where we have aspired to capture the soul of a specific place. We have been able to show that a clear genius loci means an increase in attractiveness and willingness to spend with 25 to 35 per cent.
A strong degree of genius loci does not necessarily mean luxury apartments and exclusivity. It does contribute to a place where people feel a natural urge to live and spend time, regardless of economic or cultural background. By taking a place's character and culture into account mixed spaces are naturally created.
Basically it's about respecting the values and attitudes that exist among those who dwell there, in conjunction with topography, nature and available light (this is of course true of Tollare as well). That way an authentic place can be created, one that will be watched over and preserved over generations, long after you and I and for that matter Bonava have been forgotten.
Consult the genius of the place in all That tells the waters to rise or fall Or helps the ambitious hills the heavens to scale Or scoops in circling theatres the vale … (Pope, 1731, lines 57–60)
* Pope, A. (1731) Epistle to Lord Burlington reprinted in Davis, H. (Ed.) (1966) Pope: Poetical Works, pp. 314–321 (London, Oxford University Press).