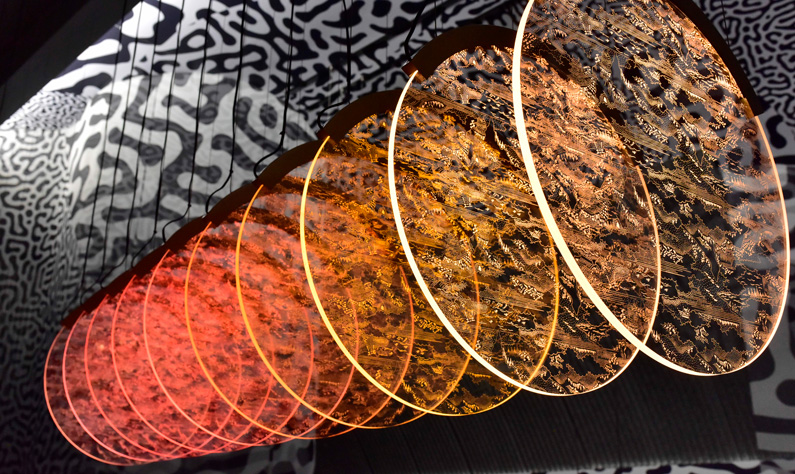 The grandest exhibitions, like the one that encompassed the university grounds that we saw just a couple of years ago, had now shrunk, bartered down and strongly simplified. Probably an approaching recession captured in the understated character of design and art. Traces of a more humble outlook towards the future, where adaption is more important than revolution. Does that sound boring? It doesn't have to be.
There were many interesting exhibitions again this year, you just had to be extra attentive and willing to walk the extra mile, outside the old usual box to find that special something that we left Sweden to find.
1. AGC Asahi Glass – technical neo-humanism
AGC Asahi Glass is one of the most advanced producers of glass and high-tech materials, under the guidance of curator Keita Suzuki, they had created a puzzling exhibition in Ventura Centrale. In the borderlands between advanced technology and traditional design they had created a number of illuminatory installations and furniture of a completely new kind. Magical and beautiful, and at the same time somewhat frightening. Devoid of topology, they lacked a connection to our times, like a computer would have been inscrutable for residents of the 17th century. This is probably, and hopefully, the kind of illumination we can expect to find on the mars bound journeys of the future. High tech, culture adjacent and occupying the void between the living and the dead. AGC Asachi Glass is one of the few companies in the world who incorporate DNA in their glass. Your DNA, your child's or your loved ones' could be a part of the night light on the vessel that takes you on your long journey to Aniara.
Rossana Orlandi Plastic Price – environmental design
We have previously written an article about the opportunity of plastic to go from being the most hated material to, in the future, becoming something thought of with greater warmth and even status. This is the basic premise of Rossana Orlandi's RO Plastic Price. Rossana claims that plastic can be extremely durable, beautiful even. This year's winner, Alexander Schul, has created a number of objects from recycled plastic, but perhaps Schul could have pushed the envelope more. The trend of showing the many possibilities for creating a better world, without focusing on shame and prohibitions, but rather encouraging curiosity and ingenuity, is uplifting.
IKEA Symphonic – Smart Home for everyone
Symphonic is a collaboration with Sonos where IKEA has developed a lamp that also functions as a speaker. The trend towards being able to communicate, not only using speakers, but sound design itself as an increasingly important part of our environment, is becoming more vital. If IKEA is to be believed our future will be in a-minor, a key without signature that is solely played using the white keys. And best of all; a-minor always sounds good! Symbolically a-minor is usually regarded as the holiest of keys. The smart home will increasingly develop to becoming the sentient home, emotional enforcement through smart systems that manipulate sound and light rather than super intelligent refrigerators. Who could have foreseen this when intelligent homes first saw the light of day in the early 2000s as a collaboration between Ericsson and Electrolux?
2019 has brought a new time to us. Using subtle manners, emotions and hidden technology finely illustrated by Keita Suzuki. This is a difficult challenge for many companies driven by growth and clarity. New thoughts from a young generation. Regardless of whether they are travelling in the goldonder or if they choose to remain among us, we won't be able to follow the same path for much longer.
Of course we saw a lot of interesting exhibitions and trends during this years fair and we can sum it all up in that even is these dark times there is hope. At least if the worlds greatest designers are to be believed.