Many of my strongest experiences have taken place in Milan. Travelling in a taxi with open windows in July being embraced by the warm night air. The fire writing at Porta Romana informed me that the temperature was 31 degrees Celsius outside. I felt indescribably free. In Milano it is possible. This was also the case sixteen years ago while I was attending Domus Academy. My first meeting with a city that has a true cultural core. They proved this again in 2018.
I have come to the Milan fair since 2002 and I have seen the trends come and go. From early 21st century optimism with its esthetical experiments – I will never forget the Driades exhibition from my first visit – to the deep economic crisis that almost killed all the magic. Design is a strong and sublime expression of the cultural and values connected currents that we have yet to be able to pick up in measurements and data analyses. Nationalism, post secularisation and shared economy caught our attention during this important annual design event early on. I saw this and I understood and I also tried to make others understand. Usually no one understood Or did they simply not want to understand what was happening? We are there now. Was there no one who wanted to believe. This is the world s largest and most respected design event with hundreds of thousands of people and thousands of exhibitions. Compared to Sweden's Almedalen this is more beautiful, smarter and far more provocative. As usual there was lots to see.
Three things that I saw that moved me a bit more:
Context driven development
I think that context is becoming increasingly important. The context of our being. The lives we lead. Important exhibitions in Milan this year were rarely individual items like Chairs, couches or tables. Rather it was whole systems interacting with their surroundings and the specific circumstances of its location. Context was emphasised by the connection of design to the city, to architecture and to the local culture, in an ofte intricate way with a high level of integrity and without ingratiating generalism. Perhaps a little like a fugue, where the separate and independent voices together create a polyphonic whole.
The cultural core
Broad visions and good intentions for creating a better more sustainable world were absent, to my great joy. I find nothing more tiresome than these general statements on values that de-intellectualise and kill everything of value. This years exhibitors encourage us to leave the discussion of modernity and postmodernity behind, meaning that the debate is both meaningless and fruitless. Maybe this is a kick in the pants for architecture and design theorists? A hint that we should be focusing on our cultural core instead. A core gathered from the local, specific and deeply anchored in man and place. How many Swedish companies have a core these days, or would allow one to develop? Is Nordic design sufficiently specific in this context? Maybe this is an idea worth latching on to and developing further.
The city as a proving ground
Why not just do it? Stop being hampered by good intentions, visions and key values and instead spring into action and actually do something. Dare. Creative. Innovative. Many creative experiments are integrated in the city of Milan this year. Apparently without beautiful guiding words. The results allowed to speak for themselves. I think it is time for us here at home to also talk less and do more. Not another plan added to the pile. Thank you.
Three pictures from this years trip to Milan:
Porta Nouva – Isola
The new part of Porta Nouva that contains a greater number of commercial properties with offices and stores was very special. There is a magnetism in this place that is incomparably the strongest that I have ever experienced in a newly developed places. If Hammarby Sjöstad is Camilla Läckberg this is Elena Ferrante or for that matter Umberto Eco. With a brusque form language Isola contrasts Stefano Boeris now world famous vertical forested skyscrapers. Here new ideas are tested with communally created park spaces and public rooms.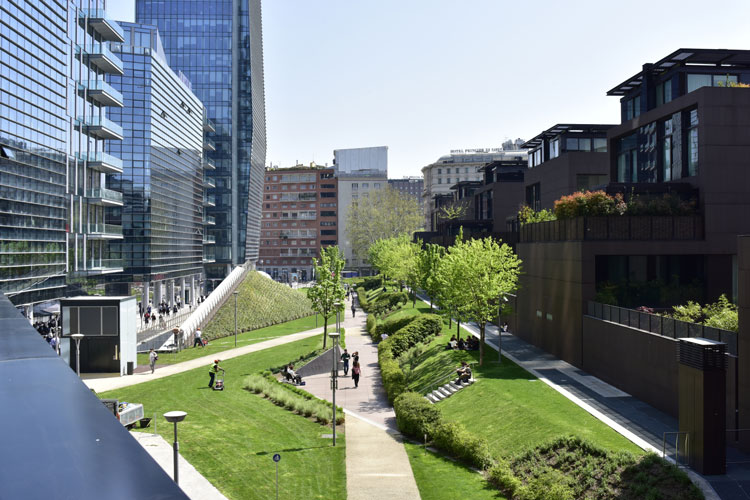 House in Motion
An exhibition at Milan's university that focused on the relationship between home and mobility. Beautiful paradoxes buoyed us all. All the experiments connected to the places cultural core. We stayed here for a long time.
Fondazione Prada
Last but not least OMAs new addition to Fondazione Prada. A white monolithic structure harmonising perfectly with the factory feeling of the area. Frightening, powerful and intellectual. There is so much more to be said and we will, like always, carry this experience forward in Quattroporte's work and in my guidance to all those of you who want to create a more attractive, better and more beautiful world. On my part this means that I will return to Milan in a years time to experience that which I never get to experience here in Stockholm or in Sweden for that matter. Because, despite Sweden's fantastic economy and moral world domination I feel we are dwarves in other areas. God, I long for a new Gunnar Asplund. In these times of meaningless start-ups and climate f**king anxiety we need something a bit more sustainable. And beautiful.