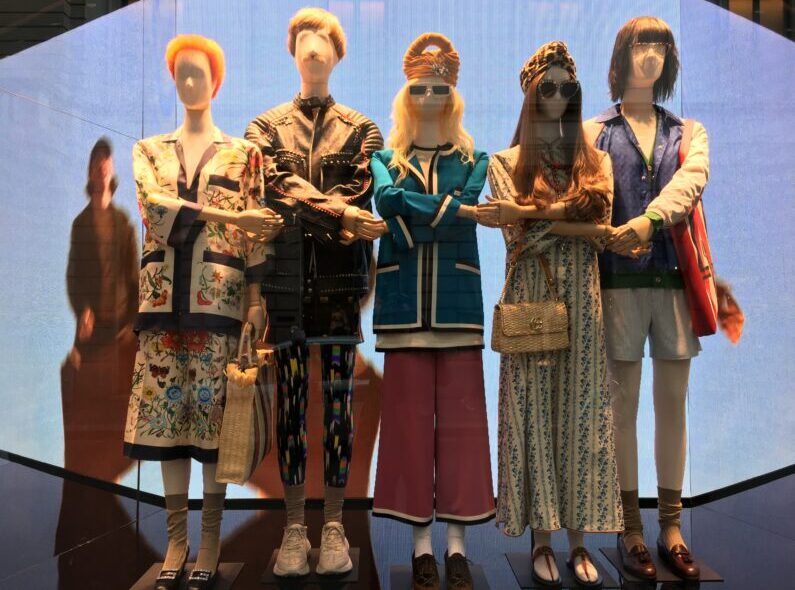 What do you think represents beauty in the future? I have written about this earlier and suggested at the time that beauty in the future was represented by Alessandro Michele, the creative head and designer of Gucci[1]. Last week the new collection Aria was presented in a 15 minute movie. And after watching it I feel even more certain that Michele is onto something.
Alessandro Michele has, since he took up his post in 2015, revolutionized and shocked an audience consisting of more traditionally minded aesthetics. At the same time he has managed to attract completely new fans. And earn terrible amounts of money for the luxury brand Gucci. This has left an entire design and fashion world trying to deconstruct what Michele/Gucci have actually done to reach this fabulous success.
Creative business has created a fantastic business
That there is genuine creativity[2] behind this achievement is beyond doubt. This is not an example of empty posing and showmanship. Instead Michele/Gucci are providing something new with great value and astonishing reach in terms of originality. Time and again they have insightfully captured the societal spirit or Weltanschaung as the architectural magazine Domus decide to term this success. Using these insights the company is creating an exceptional business deal. Gucci had a revenue of nearly 100 billion in 2019 and with profit margins of over 40 per cent they are now delivering results that Swedish companies can only dream of. Of course, covid has impacted the business but after a tough 2020 they are now headed back to the levels of 2019 and higher still. It can be asserted that Alessandro Micheles accomplishment are on a level with those of Elon Musk or Steve Jobs. In Sweden, however, his name is rarely mentioned outside the industry.
Aria – a hymn
With the new collection Aria Gucci celebrate their centennial without even once invoking nostalgic retrospection. It is not a retrospective account of all their successes but rather a loving wink toward the future. You could argue that what Gucci is showing are memories of the future[3]. What the rest of us have yet to discover, but that we will remember as wholly natural expressions in ten years time.
The models in Aria[4] walk through a long tunnel or corridor where the walls are lined with cameras. A clear connection to the pandemic and the digital life that many of us have been leading for quite some time now; a curtailed freedom. A visual metaphor also used by Prada. Perhaps a bit obvious, but it is an efficient touch. In the version of Prada and Raf Simon we are forced to remain in a cold digital reality. Gucci´s Aria-show dissolves like a Gordian knot and in the finale the doors to the future are flung wide, to an Italian garden paradise where the models float and are finally made part of the whole. Overly dramatic and very very beautiful.
Gucci´s strengths as a brand
Gucci is a classic brand with a mythological quality that affords them to be esoteric in their expression and communication. At the same time they have shown in other communication that they are very much present and clear in their positions, for example in the series of short films that we have written about previously in QP-kollen
If we look more closely at the strengths of the brand we can see that Gucci is perceived as cool, creative and culturally attractive. These are areas where the brand is considered much stronger than, for example, competitor Prada. Naturally H&M and Zara are hard pressed to compete in this league as they are in a completely different arena, fast fashion.
Recipe of success
So what has been the Gucci recipe of success since 2015? The measure of courage to change course by 180 degrees is not for the faint of heart. From serious and elegant to humorous, rich in contrast and provocative. Strong sensibility: To truly gauge the spirit of the times. Values and attitudes present today differ from previous decades.
The skill to translate creative vision into concrete action and production. It is no longer enough to be super creative, this creativity needs to be paired with an understanding of the whole. The concept as well as the production line. Here there are ample similarities with Elon Musk and Steve Jobs.
Education: Being able to place the business within a larger cultural and societal context never hurts. Even if Gucci has parted with the design expression that dominated the company for the nineties and the aughts they have never lost touch with their history. There is a great respect for the achievements and expressions of Tom Ford running clearly through the Aria-collection.
Naturally one can make the point that Gucci is a part of a reprehensible society based on consumption and geared toward the rich. The kind of business that is hastening the demise of our planet and creates envy and alienation. For example, Gucci is the preferred brand of criminals. In "I adorn, therefore I am" Alessandro Michele claims that he wants to make beautiful things that will endure. The question is can we spare the beauty of the future. I don't know. Those among you who are wiser might.
Peter Majanen, CEO
[1] "Skönhetens återkomst" https://quattroporte.se/aterkomsten/ [2] "Hitt på nåt" en artikel om kreativitet: https://quattroporte.se/om-kreativitet/ [3] "Minnen om framtiden": https://quattroporte.se/minnen-om-framtiden/ [4] Aria: https://www.youtube.com/watch?v=H14DatRx0Uo