Values Profiling
Values and the future – why are they so important?
Values, as opposed to the future, can be measured. I know very little about the future. Perhaps we'll have a cold summer? Maybe the stock market will crash tomorrow? Perhaps Fredrik Reinfeldt, Prime Minister of Sweden, will become a priest? About this I know nothing. What I do know is that values can be measured and studied.
Research has shown that values have a very large impact on future developments. The basic values in society are slowly changing, and are doing so in a specific pattern.
We also do know that the values of the future exist in the adolescents of today. Even though you cannot equate the two, there are similarities between the future and youth values. And if we can understand the connections between values and the progression of society, we can create images of a probable future.
Values profiles
Below we list seven different values profiles, based on several years' values research resulting in a unique method to spot trends in an early stage by which we can create clear and multi-facetted images of the market and society of the future.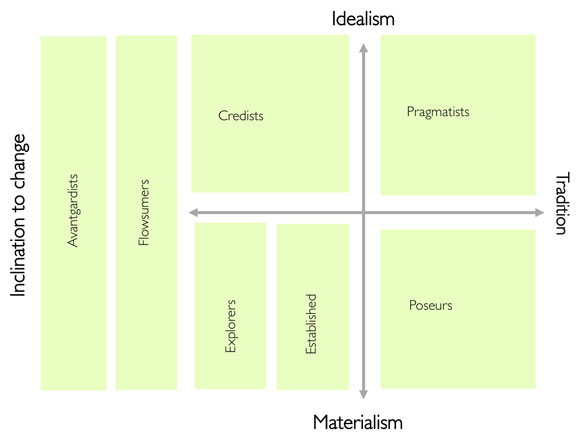 Avantgardists:
Avantgardists are the first to explore the latest, and understand contexts better than anyone else. Nothing new is foreign to the avantgardist. S/he is a "gateway" to the market through which everyone must pass. This group will increase in the future.
Driving forces
– Risk-taking
– Being surprised
– Being challenged and dazed
Lifestyle
– Experimental
– Creative and re-innovative
– Borderless
What gives him/her a good experience?
– Music
– Architecture, art and design
– Entities made up of contrasts
– Other cultures
– Spirituality and the ethereal
Pattern of consumption?
– A lot – more than average within most areas
– Travel, groceries and design are three extreme areas
– Second-hand and vintage
Flowsumers:
Flowsumers are consumers looking for entertainment and who are willing to pay a high price for it. This group will increase in the future.
Driving forces
– Having fun
– Trying what seems entertaining
– Spoiling oneself
Lifestyle
– Hedonistic and self-centered
– Lives for the day
– Borderless
What gives him/her a good experience?
– Travel
– Sex
– Beauty and good design
– Other cultures – what's not here
– The unique
Pattern of consumption?
– This is the group with the highest level of consumption
– Buys more clothes than any other group
– Travel, games and second-hand are also big
Credists:
The Credists are an active and concient group that will be important in the future through their "cred". This group will be on the rise in the future.
Driving forces
– They want all people to have a good life. Justice and welfare. The environment.
– The search for happiness – not satisfaction or status.
– Artistic creativity. Critical and questioning.
– Anti-commercial. Ideological and horizontal perspective.
Lifestyle
– Consumption mustn't take up too much time, energy or capital
– Good standard of living, solid furniture. Functionalism is the ideal.
– Love spending time in nature – luddites.
What gives him/her a good experience?
– Something with a historical and personal connection.
– A clear cultural heritage and soul.
– Retro
Pattern of consumption?
– Carefully and thoughtfully – avoids big brands
– Likes to buy domestic, fairtrade and environmentally friendly products
– Likes to buy second-hand objects
– Items with an obvious creator/designer
Explorers:
Explorers are constantly on the hunt for new experiences – Stockholm is too small. This group will increase in the future.
Driving forces
– Wants to achieve things
– Wants education and training – to be the best
– Wants to be successful
– Ambitious – but not a big risk-taker
Lifestyle
– Active
– Tries to stay in tune with the world
– A Bon and Wallpaper magazine lifestyle is attractive
What gives him/her a good experience?
– Travelling abroad
– Contemporary art
– Film
Pattern of consumption?
– Abroad
– Downtown, preferably in department stores and smaller boutiques
– Expensive and sometimes out of control
Pragmatists:
Pragmatists focus on the family, close friends and the home. This group will decrease in the future.
Driving forces
– Wanting their near ones to have a good life
– Family welfare; good standard of housing
– Socializing with near ones
– Shopping is functional
Lifestyle
– Close to nature
– A healthy life
– Being prim and proper
What gives him/her a good experience?
– Nature
– Socializing at home
– TV and video
Pattern of consumption?
– Preferably at factory outlets and external shopping malls, sometimes in the city
– Opts for the big chains
– Wants to find everything in one place
– Sticks to a budget
Poseurs:
Poseurs make up a group that wants recognition, to be known and visible – affirmation is everything. This group will decline in the future.
Driving forces
– Getting respect, and getting rich
– Looking good – being desirable
– Being acknowledged
Lifestyle
– Dedicates much time and thought to shopping
– Stylish clothes, expensive accessories and cosmetics
– Likes to be seen in trendy places
What gives him/her a good experience?
– Flamboyance, luxury and a taste of the good life
– Good offers
– Being in places where you can buy everything
Pattern of consumption?
– Exclusive products in the sale
– The big chains
– Together with others